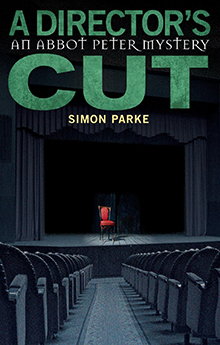 Set in the seaside town of Stormhaven on England's south coast, the third Abbot Peter mystery, A Director's Cut opens the curtain on a dark tale of murder and revenge in theatreland.
Abbot Peter has taken his niece Tamsin Shah for a night out at the town's famous Bell Theatre, to see the controversial play, Mother's Day. With a history of successful productions, it is a jewel in Stormhaven's battered crown – a successful theatre in an unlikely setting, led by the dynamic Hermione Bysshe-Urquhart, MBE.
But when she is found murdered on stage at the beginning of the second act, Abbot and niece, like lambs to the slaughter, are drawn into the grievance behind the greasepaint and a rage behind the stage. Hermione often joked, 'This theatre will be the death of me!' But not like this, not with such malice.
Someone hated Hermione – but who? Why would anyone want to kill such a revered local figure? And why does the life of a 14th century German monk, hounded by the Inquisition, suddenly matter quite so much in 21st century England? In a short space of time, a night of local culture becomes an investigation of considerable danger for the Abbot; and a theatre of dreams becomes a theatre of nightmares.
'In the end,' said playwright Edward Bond, 'I think theatre has only one subject: justice.' Someone in Stormhaven is in dark agreement; and the murderer will not stop with the execution of Hermione…