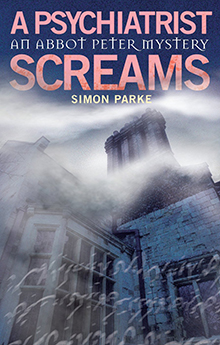 'Although seven clowns started the evening alive, only six still breathed by the evening's end. And while everyone saw the murderer and knew the murderer, no one knew their name. The Lord of Misrule had seen to that. They'd seen to everything at the Feast of Fools.'
The second Abbot Peter mystery opens with the Halloween murder of a therapist at the Mind Gains clinic, a new adventure in mental health in the seaside town of Stormhaven.
The ambitious (and therapy-hating) DI Tamsin Shah brings Abbot Peter in on the case, after their successful partnership in solving the mystery of the town's crucified vicar. They're soon immersed in the world of Freud, Jung and psychopaths, as both staff and clients come under suspicion – including Martin Channing, the editor of the sleazy local paper, the Sussex Silt. For once he is the story, as opposed to the one making it up.
The Mind Gains clinic is in financial trouble having just purchased Henry House, a large Elizabethan pile on the outskirts of town. The Feast of Fools was a Halloween publicity stunt designed to draw people in; but when one of the therapists is killed at the end of the evening, his skull fractured in the office cupboard, a series of events unfold which bring the Abbot face-to-face with the coldness of a clown in a Bonfire Night of terror.
'I have found little that is good about human beings on the whole,' wrote Sigmund Freud. 'In my experience, most of them are trash, no matter whether they publicly subscribe to this or that ethical doctrine or to none at all. That is something you cannot say aloud, or perhaps even think.'
Abbot Peter finds truth in the psychiatrist's words; but truth also in those of a 14th century Persian poet called Hafiz. Could the strange coincidence of their lives throw light on this dark trauma by the sea? Peter senses it might… but Henry House will not give up its secrets easily.