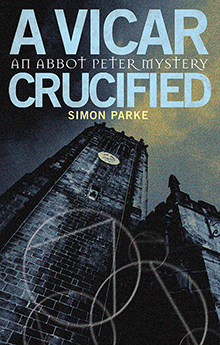 Abbot Peter has recently swapped leadership of a remote monastery in the Sinai desert for retirement in the bleak and stormy seaside town of Stormhaven. When the local vicar is discovered crucified naked, in the vestry, the Abbot is invited to act as a Special Investigator.
Discovering a surprising connection along the way, he partners the attractive and ambitious Detective Inspector Tamsin Shah in pursuit of the killer. He believes a mysterious ancient symbol can help them in their quest; she is far from convinced.
With the church invaded by forensics, the community is in shock, adjusting to the frightening knowledge that the murderer is one of them. But who? The curate? The bishop? The treasurer? The youth worker?
As cold waves crash against the winter shoreline, suspicion replaces friendship at St Michaels, where no one is safe and no one trusted. But as the ravenous press descends on the town, and secrets unravel, there will be more victims, and a desperate climax, before the hidden truth becomes clear.
This is the first of the Abbot Peter murder mystery series, with the Daily Mail calling the Abbot 'a true original'. The Irish Independent says: 'An engrossing page-turning thriller, propelling the reader through its multiple twists and turns and keeping one guessing until the final unpredictable – yet satisfying – denouement.'