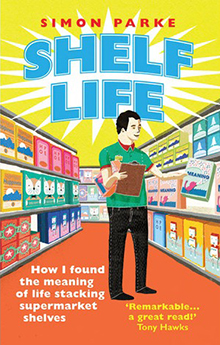 There I was stacking shelves; working the till; chasing thieves and as chair of the shop union, representing the staff at various hearings. It was a happy three years of employment in the supermarket; and not a day off sick throughout, because why would I want to miss another day in paradise? But I never imagined it might all become a book.
It was Richard Addis, friend and former editor of the Daily Express, who said I should record it all. "A supermarket diary, Simon – that would be interesting. We all use supermarkets, but no one really knows what happens in them."
And so I began to keep a record, but thought little more about it, until a washing machine gate-crashed the story. My daughter's memory stick had been destroyed in the launderette, and so she borrowed mine. While working on her essay, she decided on a break – and a good nose through the stored material on my stick. She came across Shelf Life (then called Supermarket Wars) and became engrossed. "You should put this up on your site, dad."
And so with that encouragement, and my ever-supportive web genius Simon Jenkins, I did; though doubtful whether anyone would be interested. We put up weekly episodes, with some wonderfully bleak cartoons by my son. They'd been running for about three months when Richard Addis came back to me. I hadn't had a lot of reaction thus far; one or two complaints that they were a bit rude, but not too much else. But Richard had an idea.
"Why not try the Daily Mail?" he said.
He had previously been a senior figure there and felt that they might just be interested. What he didn't tell me at the time – perhaps wisely – was that he reckoned we had a 1 in 10,000 chance; "in fact, slightly less." Had I known that, I probably wouldn't have sent in the proposal.
But it happened, and none too soon. I was on my knees financially, with freelance work too sporadic to survive on. In fact, I was already talking with the shop about returning full time when the Daily Mail said "Yes". The editor liked it and gave it to his deputy editor. The deputy editor liked it and gave it to a senior editor called Paul Carter – who then became the driving force behind the project. His kindness, encouragement and deft editorial sense have been a constant blessing as six episodes, tentatively offered, eventually became 66.
It was Paul who sent me the lines from a poem by Emily Dickinson, which became my guide:
Tell all the truth but tell it slant –
Success in circuit lies.
I had to learn a new way of writing, with Paul a wise and demanding taskmaster. No cloudy sentences; no set-up lines without a worthy pay-off; and pace – the story must rattle along. And yet always the demand for thoughtfulness as well. It was odd for an ex-vicar to be harangued by a newspaper man for "more reflection".
"There's not enough message here," he'd say, if he couldn't find the silver bullet line.
But I loved writing it. Writing the column was a sort of holiday for me; an intense holiday and a rather exhausting one, but a holiday nonetheless. I was very blessed by the wonderful cartoons of Andy Ward; 50 per cent of the show for me. And one of the delights of writing for newspapers is the immediate reaction that comes via email. People put down the paper and 10 minutes later you know how they feel! Wonderful! (Well, usually.) If you're interested, some of them are here.
I had to tone down the language after a few weeks when the Mail received a complaint from an angry man in Kent. And one or two rude bits were cut out, on the basis of too much information. But overall,the Mail has been the most generous and adventurous of employers.
Shelf Life the book was not a foregone conclusion, however. Indeed, after three major publishers turned it down, I was beginning to feel it wouldn't be. Until Judith and Ebury Publishing – under the large umbrella of Random House – came onto the scene and said "We'd like to do it." And so together we have.
It remains pretty faithful to the newspaper columns, because it's all about the characters and events and they haven't changed. Sapphy, Winston, Faith, Casper, Pinocchio, Toad, Mohammed, Brian, Kong, et al, are all there. But in book form, the pace can slow a little; some language can return to Anglo-Saxon authenticity; some rude bits can squeeze back in and there's space for a little more reflection. In terms of the story line in the Mail, we get up to about October 2008.
And then a couple of weeks before the book went off to press, a nice surprise – comedian, author and philanthropist Tony Hawks came in with his support. He read the manuscript, enjoyed it and was kind enough to say: 'Simon Parke has managed to do something remarkable. He has taken the ostensibly "ordinary" world of a supermarket and turned it into an entertaining classroom where we can learn important lessons, whilst having fun at the same time. A great read.'
So it's come a long way from a few rough jottings on a cheap memory stick from Argos. For that, I am indebted to kind and supportive people like Richard, Chloe, Harry, Simon J, Paul and Judith; and the washing machine, of course; because without him and his destructive spin, Chloe would never have borrowed my memory stick. Life, eh?!
Shelf Life the book is published by Ebury Publishing under their Rider imprint. It's available at all good book stores, and probably some quite poor ones as well. Whether the supermarkets will stock it, I couldn't say. Truth hurts.