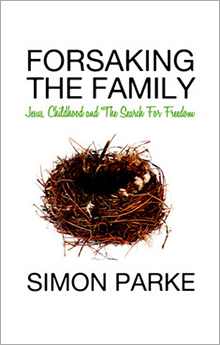 We all grow up somewhere. No two families are the same, but everyone experiences them in some way. What everyone doesn't do, however, is consider the effect of these experiences on the person they become. This lack of awareness can have significant consequences in their future relationships in the world.
Forsaking the family, full of story and illustration, starts by considering the surprising approach of Jesus to his own family – in turns, rude, dismissve and warm. His family values would hardly be applauded today. The book then reflects on how we perceive, understand and grow from our family experiences.
In his search for freedom, Jesus sought always the truth – even in the family, and even at the expense of people's feelings. He celebrated the good in family, but would not collude in manipulative and negative behaviour from his nearest and dearest.
To what extent are we able to live in honest relationships? How free can we be in relating? Perhaps sometimes, you have to leave the family to find it.
This is a book for those who want to come home.
An Amazon reviewer says that Parke 'does a good job of demonstrating that Jesus was anything but "pro-family", while exploring the ways in which the family can (in a sanitized version of the Larkin poem) "muck you up". On the plus side, he explores a model of relating to families in a more free and constructive way, and affirming relationships which create a family not necessarily based on blood ties. A provocative and entertaining read.'
Another Amazon reviewer says: 'I've read many books on the subject, many good ones (Tolle, Osho…) and this one is surely one of the best, I highly recommend it.'