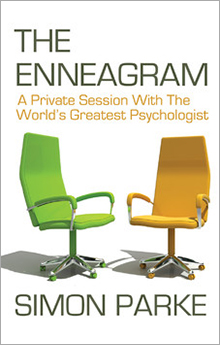 My new book on the Enneagram, The Enneagram: A Private Session with the World's Greatest Psychologist, is now published, and comes complete with a recommendation by Simon Mayo: "There is no better guide to this fascinating subject than Simon Parke. A very wise man has written a very wise book. You'd be stupid to miss it."
For those unfamiliar with this strange word, the enneagram is an adventure in self-awareness. Developed over 1,500 years by both Sufi and Christian mystics, it was overhauled in the 20th century by the disciplines and insights of Western psychology. It describes nine different ways people understand the world; nine different ways they experience it, act in it, suffer in it and try to belong in it. One of these nine ways is particular to you and shapes your life to a considerable degree. It is inner revelation, but with significant outer consequences.
In my last book, The Beautiful Life, I outlined the deep and open-ended truths which lie beneath all traditions. The assumption here was that we are one, and that a unity of understanding is possible. In this new book, in the company of the enneagram, I consider personal and particular truth. The assumption here is that we are different and need an individual hearing. This is why it's a private session.
The two books go hand in hand. We are one – and we are different.
In the meantime, it's an interesting question: Just who was the world's greatest psychologist?
The radio presenter and author Simon Mayo says: 'A very wise man has written a very wise book. You'd be stupid to miss it. There is no better guide to this fascinating subject than Simon Parke.'