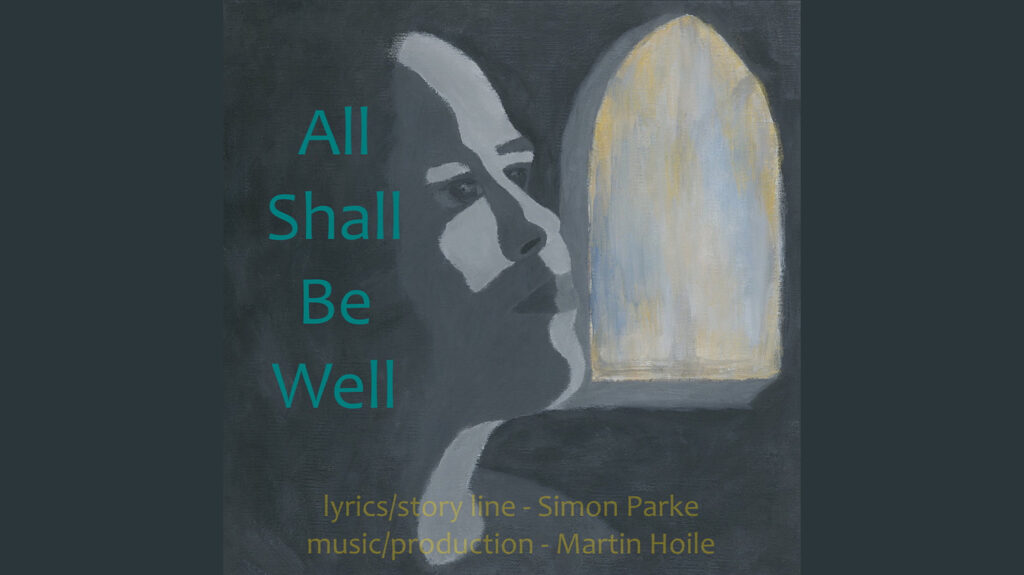 A musical around the life and work of Julian of Norwich
Lyrics and script: Simon Parke
Music and production: Martin Hoile
All Shall Be Well: the Musical is a show about Julian of Norwich, one of England's least-known, foremost women. It's comic, social, spiritual and political. It can also get emotional.
One early fan has been none other than William Nicholson, the twice Oscar-nominated Screenwriter and Director, with film credits including Shadowlands, Gladiator, and Les Mis.
'Great fun,' he said. 'Hoile and Parke have done a highly entertaining and professional job. I hope it makes it to performance. It cries out for an audience.'
How and why it came to be
It started over a drink in the garden. I had recently written a novel about Julian's life, The Secret Testament of Julian. So she was on my mind when Martin Hoile, an old friend, came to call.
We wrote our first song together when we were 17, which is a terrifying 46 years ago. And as we talked about Julian – the first woman to write a book in English – we thought, 'She has to be a musical.' Music has a power way beyond words, and we both felt she was worth it.
We worked in our usual way. I'd write the lyrics, send them to Martin, who would put them to music, and then send them back as a recording for comment.
After six months, with songs back and forth across England, we had the outlines of a show, including a script and the songs. Martin then came to stay for three days, which was a period of intense development of the material.
And then, on our last night together, we gave the first performance of All Shall Be Well to an audience of one, my wife Shellie, in our front room. Martin and I played all the parts (he was a surprisingly good Julian), and the review was favourable!
A year on, others have thankfully joined us to produce the album of the show songs. The performers include Zac Hamilton, who was Jean Valjean in the national tour of Les Mis, who plays John Ball and God; and the beguiling Ellen Armstrong plays Julian.
The songs are available on the link below to listen to and to buy, should you wish:
And we're now beginning to talk with anyone who will listen, about the possibilities of a stage show. We'd love to see All Shall Be Well as a live production; it's where, and how, and what it should be.
Why Julian?
But why does this woman matter? you ask. Why revisit the life of a 14th century anchoress, unknown in her time, and largely forgotten for 600 years? Put briefly, I discovered in Julian a woman who was free. And that's a delight.
Around her were famine, death, social inequality, misogyny, political revolt, harsh repression and the gnawing fear of hell. And yet she was free.
How was that?
She's no plastic saint. There's a deep sense of struggle in her life, which included the tragic loss of her husband and child to the plague. And she was riddled with shame and anxiety as both child and adult.
And yet she was free.
It's a 14th century drama with a 21st century voice. And so we decided to put it to music so that it could become a song of freedom that's waited 700 years to be sung.
We hope you enjoy it.
Read more
All Shall Be Well: the Musical
About Julian of Norwich
The songs
The production team